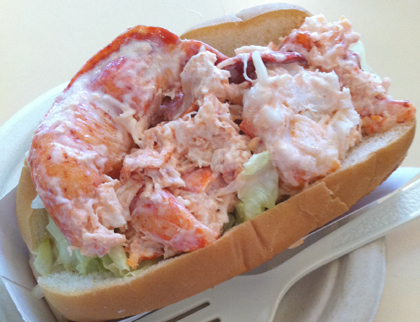 Last week, I was in the Cape, existing more or less solely on seafood. One dish, if you will, that has transcended New England appeal and now is making a showing in the trendiest spots in NYC (including out of basements in Brooklyn) is the lobster roll.
Simple in preparation, it consists of about four ounces of cold lobster meat, a mix of claw, knuckle and often tail. This is delicately coated with mayonnaise that may include a other herbs or secret sauce and placed on a bed of shredded lettuce in a hot dog bun, sliced from the top and often lightly grilled or toasted. The end result is lip-smacking, finger licking good. (I snapped the above pic with a cameraphone at Captain Frosty's in Dennis; it can also come with fries as is standard in the delicious rendition at Osterville Fish Too in Barnstable.)
So, even if there's no wine on the menu at most clam shacks, the wine geek's mind wanders…which wine would you pair with a lobster roll? Or is it…impossible?!?