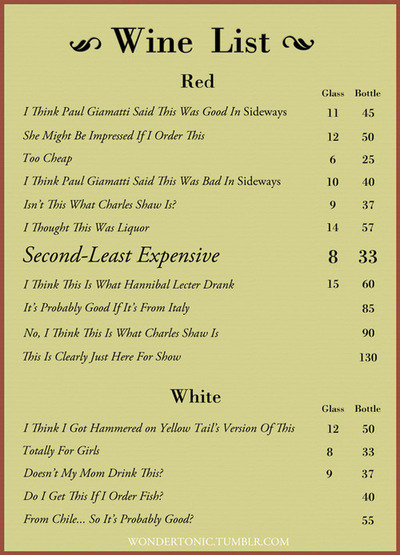 SIPPED: X-Ray vision for wine lists?
The above image comes from wondertonic.tumblr.com
SIPPED: satire
HoseMaster continues his discussion of Carbon Footprint wines, including "Creeping Deforestation" & "Screw the Ozone" [HoseMaster of Wine]
SIPPED: dug up from the cellar
"Perth Pink….This is not a wine for drinking, this is a wine for laying down and avoiding." An old Monty Python wine sketch that had fallen through the cracks!
SPIT: convenience
Alcohol has been "too accessible to the people of Ontario," so the LCBO will respond by shuttering retail stores and limiting the rest to 12-3 on Saturday. [This & That; cbc.ca]
SIPPED: natural wine humor
"So far only insufferable hipsters in New York and San Francisco talk about natural wines but they proselytize so much over the internet that we may pick up another 50 or so drinkers in the next few years." A new new robotic sommelier video.
SIPPED: glass cleaning tip o' the day
Don't use the same sponge to clean wine glasses that you just used to clean the waffle batter bowl.