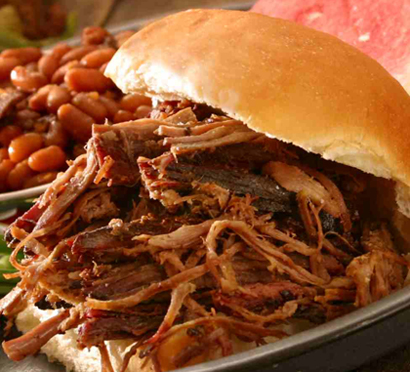 We haven't had any meat in our impossible pairings series since the bacon explosion. Generally, meat is too easy for us all to pair. So cranking up the degree of difficulty, today we present you the challenge of the pulled pork sandwich.
At the base level it's not all that hard: a shoulder of pork is smoked (or a whole hog is roasted in eastern North Carolina) and then chopped, shredded or sliced. Then comes the question of sauce. In most places outside of the Carolinas, a sweet barbecue sauce is generally stirred into the meat, forming a gloopy, orange mass of sweet meat that is then plopped on a bun. The haute BBQ places will actually let you add your your own sauce and slaw…which is where it gets tricky.
Some regional variations favor a mustard based sauce. Others have a thin sauce based on cider vinegar while others add a dash of tomato and a dash of sugar. Still other styles have brown sugar or molasses. Finally, there's the sweet, think mass that is KC Masterpiece.
And the slaw that can go on top presents its own challenges: shredded cabbage, grated carrot, dunked in a sauce of mayonnaise, cider vinegar and sugar.
So make your sandwich the way you like it. And suggest a wine pairing, if it's not…impossible!