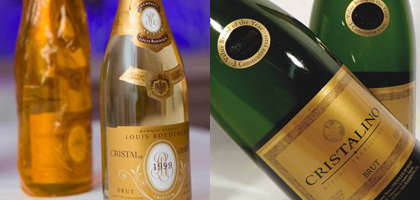 Last week, a judge ruled in favor of Cristal champagne over the cava Cristalino. And it wasn't a taste test.
The makers of the two wines have been sparring in court for the past four years. In the latest round, according to twincities.com, U.S. District Judge Joan Ericksen has barred the makers of Cristalino from "using any mark, word, or name similar to the Cristalino name that is likely to cause confusion, mistake or deception with Roederer's Cristal marks." She also ordered them to change the brand's name, lose the colors, and change the font on the label.
It would be interesting to hear the legal arguments for both sides. But on the face of it, do you think the makers of the $5.99 cava had constructed their product to free ride on the association with the $300 Cristal?
J. García Carrión, the maker of Cristalino, produces and markets fruit juices and wines in Spain. Champagne Louis Roederer has several wine properties outside of Champagne including Domaine Ott in Provence, Chateau Pichon-Lalande in Bordeaux, and Roederer Estate in California.