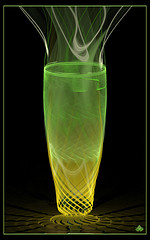 In a NYT story entitled, "To Enhance Flavor, Just Add Water," Harold McGee explains–perhaps counterintuitively–that adding water to (alcoholic) beverages amplifies their flavors and aromas. To the tape:
How can water reduce one sensation and amplify another? Both alcohol and aroma molecules are volatile, meaning they evaporate from foods and drinks and are carried by the air to the odor receptors high up in the nasal cavity.

Aroma molecules are also more chemically similar to alcohol molecules than they are to water, so they tend to cling to alcohol, and are quicker to evaporate out of a drink when there's less alcohol to cling to.

This means that the more alcoholic a drink is, the more it cloisters its aroma molecules, and the less aroma it releases into the air. Add water and there's less alcohol to irritate and burn, and more aroma release.
Given that there's a notion that "alcohol delivers flavors" in wine, this is a useful contribution to the discussion.
Of course, it takes a lot of water to make wine. Sometimes that water has been added in the late innings of winemaking, a process called "watering back," with the volume measured in "Jesus units," an oblique reference to the Marriage of Cana.
In his column, McGee adds water to a glass of 15% zinfandel, bringing it down to 12%. He describes the difference: "A glass of the full-strength wine tasted hot, dense, jammy and a little sulfurous, while the diluted version was lighter all around but still full of flavor, tarter, more fruity than jammy, and less sulfurous…the watered-down wine was surprisingly pleasant, and maybe more suited to summer evenings than the intense original."
Consumers adding water to their own wine in the glass is rarely discussed in wine geek circles. But in the broader wine-drinking world, it does happen, most often in the spritzer, where sparkling water is added to (white) wine. Perhaps that carbonation further amplifies the aromas? More trials may be necessary here. But one thing's for sure: spritzers can still make you tipsy. This was immortalized in the episode of The Simpsons Viva Ned Flanders. In it, Homer takes his God-fearing neighbor to Vegas where Flanders breaks down and orders a white wine spritzer. The next morning, the two wake up married to waitresses.