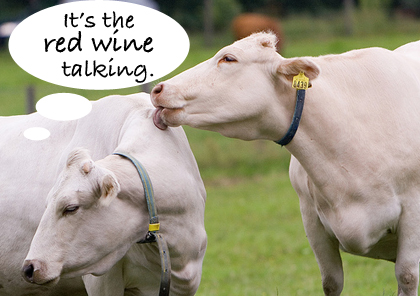 The world wine glut just found a new category of consumer: cows.
A farmer in British Columbia's Okanagan Valley is feeding her cattle red wine for the 90 days before slaughter. According to the Vancouver Sun, Janice Ravndahl of Sezmu Meats stumbled on the idea while watching chef Gordon Ramsey feed beer to pigs on his show, The F Word. Because she thought her Angus would get bloated from the carbonation in beer, she started feeding her cows a liter of local red wine a day, sometimes mixed in with their food, sometimes straight. Here's how the cows reacted:
"When the cows first drink the wine, it's like 'what is this?'" says Ravndahl.

"But once they have it, they're happy to have it again. They moo at one another a little more and seem more relaxed. There are a few that lap it up out of the pail. After they've had it for a while, when they see us coming with the pitchers, they don't run, but they come faster than usual."
A little more relaxed? And they seem to "talk to each other"? Hey now–I think someone is asking for a candlelit stall for two in the back.
Why do it? Local chefs attest to the subtly more complex flavor. One even remarked that it came "pre-marinated." If in boeuf bourguignon, the meat cooks in the wine, boeuf a la canadienne must put the wine in the beef first.