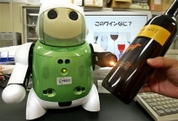 Wine writers, already about as endangered as the Iberian lynx thanks to the sagging media world (not screwcaps), have something new to fear–automatically generated tasting notes! Have a taste of what the site spits out:
Fully refined almost corpulent Chenin Blanc. Hits you with sage, boggling cardboard and bashful mint. Drink now through 2009.
Now, a sample of "extra silly:"
Neo-classic but equally longingly elegant Zinfandel. Forces smoked oyster, acidic monster gasoline and corpulent jack cheese. Drink now through eternity.
Greg Sumner, the site's creator and soon-to-be wine overlord, pulls back the curtain to reveal the formula:
How it works.
It's very simple. I put word types into arrays, then chose a word at random out of the array. The tasting note comes out in the following structure:

(Intro) (Modifier) (Adjective) (Varietal).
(Adverb) (Adjective) (Flavor) flavors, (Adjective) (Flavor), and (Strength-word) (Flavor).
Drink (When) through (EndWhen).
Whoa, keep this thing away from sommelier robots! At least they don't have a random score generator–yet.