(You ever eat Époisses after a huge meal? Run out a pound of the stuff, some big, bad supersomething red wine and plenty of bread as the candles on your table sputter, and everyone deconstructs what just happened, what was served and why and how it made everyone feel? Life gets strange and fast. Époisses is like a drug. It's the tequila of cheese.)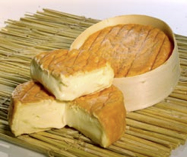 So writes Sam Sifton, NYT restaurant critic, in a blog post about David Chang's new restaurant, Ma Peche.
Epoisses, of course, is a deliciously stinky, gooey cheese from Burgundy with a rind washed in marc de Bourgogne, a local brandy. A little wooden box tries its best–mostly with futility, as I have noticed when transporting it on a crowded train–to trap the aromas that emit from these little 250g wheels. On the palate, the intense, earthy, barn-yardy ripeness can be lingering and dominating, almost too much to pair with wine. Which would you choose? Or is it…impossible?!?
Personally, the last thing I'd want with Epoisses is "some big, bad supersomething red wine." In general, I find white wine and cheese produce successful, if underrated, pairings with cheese courses. Oh, and I've never had one of those apparent stoner moments with Epoisses that Sifton describes. Maybe his was a little too ripe?