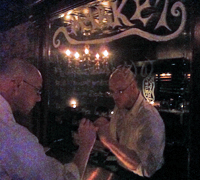 Have you ever looked at a wine list and wished that you might want to try a half a bottle of one wine and a half a bottle of another wine? At Bar Henry, that dream can become reality.
John Slover, who previously worked at Cru, has assembled a wine list with 116 wines on the "market" list. Order any wine off this list and they will pour off half of it and charge you–gasp!–half the price of the full bottle. The remaining 375ml goes behind the bar and the wine gets written on a big mirror, where it is then in play and available for purchase by other diners, either as a half or by the glass. (The list also has 24 wines offered by-the-glass.) It's a fun and innovative feature that offers the opportunity to try different wines at reasonable prices. The market list includes mostly French and Italian wines but also has selections from the US, Germany, Austria among other countries. Producers include: Tue-Boeuf, Belliviere, Knoll, Zilliken, Auguste Clape, Marquis d'Angerville, Paolo Bea and Cristom.
Bar Henry's creativity features in a story that I wrote on the theme in the June 15 issue of the magazine Sommelier Journal. Unfortunately it's not on their website, but if you are a subscriber, check out the story on the back page.UPDATE: the column is now online! Check it out at sommelierjournal.com.
Which wine bars or restaurants have you been to that are doing fun and innovative things?
Related: Bar Henry, 90 West Houston Street, (646) 448-4559 (map it)
"Finding a deal on the wine list at Bar Boulud in NYC"