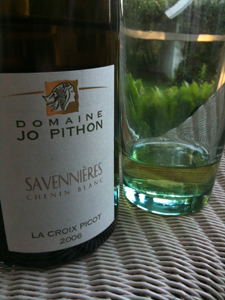 I'm just back from a few days in the woods, largely free of wifi and cell phone access. One evening, after a day of swimming and fishing, we were able to relax with some relatives and a glass of wine. Or perhaps I should say a cup of wine since the cabin where we were staying didn't have any wine glasses. I uncorked a 2006 "La Croix Picot," a Savennieres from Domaine Jo Pithon, poured it into 16-ounce green glasses, and passed them around. Even our two-year-old son laughed at the lack of wine glasses!
The assembled crew thought it was a terrific wine, despite the lack of stemware, with good acidity, white flowers and a dry honeycomb note. I guess sometimes the glassware can't hold a good wine back. Did you have any wine in extreme circumstances over the Fourth?
Unfortunately, even with stemware, it would be hard to replicate the tasting since Domaine Jo Pithon no longer exists. The man, Jo Pithon, however does still exist and is now making wine under the label Pithon-Paillé with his step-son Joseph.