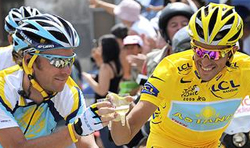 When Fabian Cancellara crossed the line first in the short prologue of the Tour de France, his bike was impounded and put through an X-ray machine. So were 13 others. Apparently authorities are suspicious of tiny motors assisting riders in the Tour. None were found.
An article detailing the day's events appeared in the NYT. In it, they also looked back at other ways riders have been suspected (or found guilty) of cheating in the Tour. This one caught my eye:
Some riders have been accused of guzzling alcohol along the way — including carrying wine bottles on their bikes — to dull the physical pain of the race.
Okay, then! Which wine do you think figured in the strategy there–something refreshing and low alcohol or a high-octane fruit bomb?
Image: reduced sized crop of an image attributed to Reuters