SIPPED: tranche
The wine word of the moment is "tranche." The final dash of pricing the Bordeaux 2009 futures has concluded with a clap of thunder: controversial Cos d'Estournel at $3,600 a case, ditto for Leoville Las Cases, La Mission Haut Brion at $10,000 a case, and Lafite at about $15,000–if you can find it. And that's just it: the top producers release fractions of the total production for pre-sale so what demand there is, pays top dollar.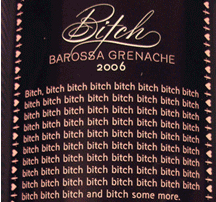 SPIT: wine's a Bitch
Grateful Palate International and R Wines are in receivership, a court-administered bankruptcy reorganization according to these filings with the Australian Securities & Investments Commission. Wines in the company's portfolio include "Bitch" and "Evil." An email yesterday seeking comment from Grateful Palate, the importer in California, received no reply.
SIPPED and SPIT: Bourgogne blanc
Per a new arrangement, white wine from Beaujolais will not be able to be labeled "Bourgogne blanc," or white Burgundy, ending a decades-long loophole/tradition (depending on your perspective). [vitisphere]
SPIT: men
The brewer SABMiller has quadrupled the number of women on their tasting panels over the past decade. Why? Women may be better tasters than men. Maybe the company will start orienting their advertising toward women? [WSJ]