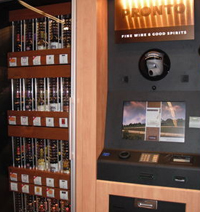 SPIT: human interaction
After many years of discussion, you can now buy wine from a vending machine in select Pennsylvania grocery stores. Added bonus is that consumers must take a breathalyzer test before making the purchase. In their lengthy Q&A, the PLCB doesn't state whether the grocery stores–not known for giving up precious square footage without slotting fees or a profit incentive–are profiting from the sale of liquor on the premises. If so, then maybe it's time to simply liberalize wine sales?
SIPPED: Coca-Cola wine
The French group Anivin thinks the best way forward for French wines is to offer a consistent product like Coca-Cola, brands, and emulate the New World to regain market share. Small growers fear they will have to sell to wine "factories." The Anivin view gets an extensive write-up in The Independent.
SIPPED: pathos
President Nicolas Sarkozy has pulled the plug on the 14 juillet garden party at the Elysée palace. Last year's fete cost €732,826, including €43,128 on wine and Champagne. The president's office told Le Parisien they were trying to set an example because of the economic crisis. [Connexionfrance.com]
SPIT: organic labels
The EU said no/non/nu to a harmonization of national standards for an "organic wine" designation. According to Vitisphere, the main point of contention was reducing the level of permitted sulfites. The EU Commissioner for Agriculture, Dacian Cellos, shelved the issue indefinitely.
SHOTGUNNED?: one pound wine
The British chain 99p Stores has announced a wine for 99p a bottle. Given the excise tax on wine in the UK is now £1.69 and VAT is 17.5 20%, someone will have to explain to me how this is even possible. And while they're at it, perhaps they can offer tasting notes of the 99p wine.
SIPPED: visits
The most visited winery in the United States is in…Napa? Sonoma? No, Asheville, NC! According to sunherald.com The Biltmore Winery on the 125,000-acre Biltmore estate, welcomes 600,000 visitors a year while producing 170,000 cases. They're all there for the wine, right?