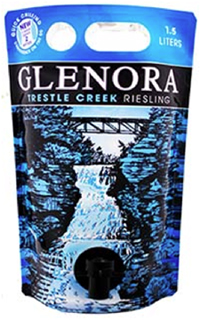 Box wine just lost its box.
The AstroPouch, previously used for foreign wines mostly in overseas markets, contains an American wine for the first time starting today. The distinction goes to Glenora Wine Cellars which put its Trestle Creek Riesling in 1.5L bag, two bottles' worth of wine, and sells it for $17.99 from its tasting room. Like a box wine, the bag has a spout; you can learn all the technical details on winesandvines.com (where the image came from too).
According to our calculations, this takes us wine step closer to making the wine belly a reality.
Once again, for the second time in a week after the single-serve wine cups, we must ask you: abomination or genius?