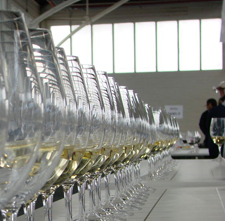 Here's a question for all the (Northern European) wine geeks out there: Can you tell if a wine has been chaptalized based solely on the smell and taste?
Chaptalization is the term for adding sugar to wine to boost the alcohol level. It is legally permissible in parts of the wine world, particularly northern Europe. Some producers still use the practice, although global warming may be creating more ripe fruit, thus obviating the need. (In other parts of the world, notably where it is hotter, it is prohibited; indeed, it may be permissible to add acid.) Alternately known as enrichment or amelioration, the process occurs before or during fermentation. Although sucrose is usually the addition of choice, from either beet sugar or cane sugar, producers can add grape concentrate or even "rectified concentrated grape must." Fermentation ensures no residual sugar is left behind since the sugars are converted into alcohol (and CO2).
An anonymous poster recently left a comment on this site claiming lab test showed a wine had been chaptalized (legally permissible) but failed to follow up with the lab report. He or she also suggested that a tasting of the white wine revealed notes of chaptalization, such as caramel and bonbon. Really? What do you think, is it possible to perceive chaptalization in the glass? If so, which sort of descriptors would you apply?