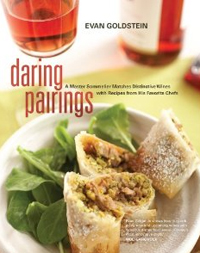 On this site, we love exotic food-wine pairings. And we often talk about grapes beyond the "big six." So it should come as no surprise that I am a fan of Evan Goldstein's new book, Daring Pairings. (In fact, I provided a blurb for the back cover.)
The highly skimmable book starts off with a worthwhile discussion of pairing food and wine. The goal, says Goldstein, a former sommelier, is to turn food-wine pairing from a lengthy, possibly agonizing process to simply picking a wine that will work and then sitting back and enjoying the pairing. The various charts and cheat sheets provide quick help toward this laudable goal. Further, he lays out five important elements of wine (acidity, sweetness, tannin, oak, and alcohol) and elaborates who they will work best with certain foods (salty foods are best with either high acid wines or slightly sweet wines but bomb with high alcohol wines). He also suggests how to tweak recipes to make them more wine friendly (e.g. varying cooking methods or replacing vinegar with verjus–juice from unripe grapes). Any given meal, he writes, will either highlight the food or the wine, which may seem somewhat controversial, but actually could be a great excuse for hosts who are wine enthusiasts to provide simple food.
Goldstein admits that most people start with food and then add a wine pairing. That said, the bulk of the book's 364 pages discusses 36 grapes, their taste profiles, various winemaker interpretations of the grapes, and which pairings work and which will fail miserably. A recipe from a chef, often well-known, such as Charlie Trotter or Fergus Henderson, also follows each grape and if you have a lot of time and ambition, you can make the recipe that won't overshadow the wine you're probably trying to highlight. The mouthwatering photography certainly stokes ambition.
The grapes are probably not all that "daring" to many readers of this site. But I just led a tasting over the weekend that included Gruner Veltliner, Albarino, and Aglianico among others, and, astonishingly, there were people who had never tried these varieties! The book certainly can help casual drinkers who are reaching for a new wine by offering a range of food pairing tips. I like wine recommendations in context; in my own pairings book, I suggested adding seasonality to further round out the picture.
Daring Pairings provides a lot to chew on. Maybe Goldstein's next book will crank up the degree of difficulty even further–"impossible pairings" anyone?