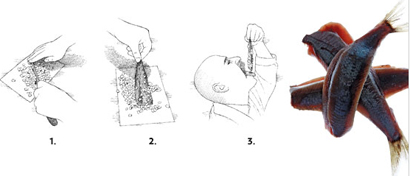 One cool June afternoon, standing by a harbor in Holland, I tilted my head back and lowered a fish covered in raw onions into my mouth. Frankly, I couldn't stand it.
Granted, I was in college backpacking through Europe at the time and I admit that having scarfed down platters of sushi in the interim, the herring now sounds intriguing. Now is the time to find out if it is: New Catch Holland Herring, a short-lived seasonal treat, arrives in NYC June 9th. The epicenter of these fresh, briefly cured fishes seems to be Russ & Daughters (but they are available at other restaurants throughout the city). Joshua Russ Tupper recommends the traditional method of enjoying the herrings: dredging the fillets in freshly chopped onion, holding them by the tail and devouring without utensils.
Mixologists in the city are suggesting spirits pairings for this delicacy. But certainly wine should be on the table (assuming it's not eaten while standing up). Help the Dutch and those around the world able to try the herrings: Which would you choose? Or is it…impossible?!?
The image here is a reduced size image from a NY mag post on the topic.