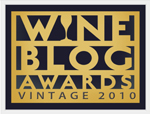 It's that time of year again: the wine blog awards! A panel of (unnamed) judges has selected some finalists in eight categories. The awards are always a good way to discover some new blogs or check in with older ones.
DrVino.com has been named a finalist in the "Best Wine Blog" category. The other finalists are the New York Cork Report, Palate Press, the San Francisco Chronicle's The Cellarist and 1winedude.
Check out all the nominees and cast your ballot. Voting ends Sunday, May 30.