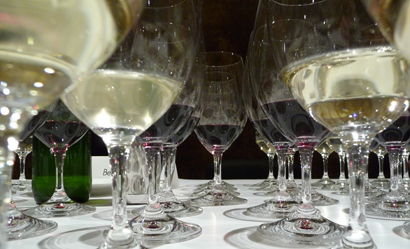 Ray Isle posts an interesting question on his Facebook page. Since Facebook as all the appeal of a leper with cooties these days thanks to their recent privacy decision, why not bring it up here as well? Here's his question: "if you want to convert a red wine drinker to drinking white, what do you think is the best white wine out there for the job?"
I've contemplated this very question several times. It probably matters which type of reds the person is accustomed to drinking. If it is a lighter-bodied red, the conversion is most likely painless since the shift would be changing some fruits on the same chassis of high-acidity. So it probably is someone who likes low-acid, "big" reds who doesn't like the acidity of some whites. In which case, there are white Rhone varieties such as viognier, marsanne, roussanne that might fit the bill. It's hard to say in the abstract, but that seems plausible in theory.
There's also the context: put the red-wine drinker with lunch under an umbrella on a 90-degree day and see if the white wine doesn't just have a little more appeal.
And Champagne is always a good fallback–perhaps a blanc de noirs, to be tricky! Any which way, there's probably little chance of weaning a dyed-in-the-wool red wine-ophile to a steady diet of whites–I was aiming for admiring and ordering a glass from now and then.
What do you think?