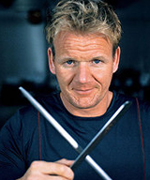 SPIT: paying bills
A few years ago, the New Yorker profile of Gordon Ramsay let drop the nugget that wine was the real profit center at The London. Now, in what is a sign of different times, two New York wine distributors, Wineberry and VOS Selections, have sued Gordon Ramsay's The London for about $40,000 each for wines sold to the restaurant. The new "F" word: finances? [NY Post but see also Grub Street for Jamie Oliver's taunting of Gordon Ramsay.)
SPIT: red wine stain remover
Bruce Willis has also been sued over wine, in this instance, for returning a rug with red wine stains in it. Bruce, here are some suggestions for the next time: white wine, salt, Wine Away, hydrogen peroxide and dishsoap. Willis denies the spill happened while the rug was in his possession. [TMZ]
SIPPED: controversy down under
An Adelaide business paper publishes a scathing opinion column on the state of the Australian wine industry, using the lens of the National Wine Centre of Australia.
SIPPED: fashionista box wine
Vanity Fair discovers box wine. Will it soon be available for Gwenyth, Gordon & Co at The Waverly Inn?
SIPPED: new terms
Southern Wine & Spirits, the wholesaler with $8 billion in revenues according to Forbes, seeks to restructure $2 billion in debt.