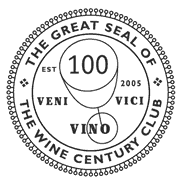 All around the world tonight, members of the Wine Century Club will meet, give their secret handshakes, then raise glasses of Lacrima di Morro, Pedro Ximenez, Assyrtiko or other esoteric grapes in an annual, in-person tasting.
Formed five years ago by friend-of-the-blog Steve De Long and his wife Deborah, the club now counts 721 members who have made the quest. I qualified a few years ago. And I give out the sheet in my classes as a fun challenge to participants.
What exactly is the challenge? To drink wines made from the grapes of 100 grape varieties. It may sound easy at first but I have seen many people hit a wall around 70 varieties and then start scouring their cities for tastings of Greek, Italian, Spanish and Portuguese wines (since all those countries have abundant grape varieties). Some members have gotten so into it that there are now doppel-centurions, a treble- and even a quadruple-centurion!
It's a fun quest to get out of your wine rut, celebrate diversity, or just to learn more about wine. Check out the application materials here to get cracking tonight. There's no cost to join and you even get a free certificate on qualification. I raise a glass of poulsard to those who give it a shot!