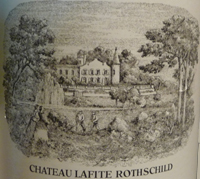 Robert Parker posted his reviews of Bordeaux 2009 yesterday on his subscription web site, erobertparker.com. In an article entitled "Once Upon a Time (1899, 1929, 1949, 1959, 2009)," he lavished praise on the vintage, particularly the cabernet blends of the left bank, and on many wines individually: 21 wines received scores of potentially 100 points. He wrote, "For some Médocs and Graves, 2009 may turn out to be the finest vintage I have tasted in 32 years of covering Bordeaux." Many were accompanied by an asterisk, which indicate that they are the best wine from the estate that he has ever tasted as a barrel sample. For the number-obsessed, Bordeauxoverview has put together a grid of all the critics' scores.
Of course, tasting is a matter of opinion and others have expressed their views (captured, in part, in our tweet roundup). Writing in the Financial Times, Jancis Robinson compared the ripeness and high alcohols she experienced to California, remarking "I have never written the word "Napa" so often in my tasting notes." Parker, by contrast, praised the best Medocs for being "powerful and concentrated" and hailed them "historic." He dismissed reports of high alcohol as being mostly "absurd."
Tim Atkin, a British writer, put together a very skimmable report (here as pdf) calling the vintage "great but not uniform." John Gilman had a similar view, adding that 2009 was a "fantastic" vintage for Sauternes. In his subscription newsletter, Gilman observed two stylistic camps among the top reds, one epitomized by Lafite that is suave and seductive from the get-go, and another, more structured style requiring bottle aging, embodied by Latour and Petrus.
There is a great deal of consensus about the first growths Lafite-Rothschild, Margaux, Latour and Haut-Brion. Mouton-Rothschild was a notch below for most tasters; Tim Atkin compared it to a Chilean carmenere and gave it 94 points.
However, some flash points have emerged, most notably Cos d'Estournel. Parker gave it a score of 98-100 with an asterisk calling it "extraordinary…one of the greatest young wines I have ever tasted" while Neal Martin who also writes for the Wine Advocate, lamented the alcohol level, compared it to a wine from the Douro, and scored it 89-91. Tim Atkin noted the 14.5% alcohol on the label, called it over-the-top, compared it to an Australian shiraz and gave it 95 points. John Gilman wrote that the was "one of the worst young wines I have ever had to taste, as it displays an utter contempt for both the history of its region and the intelligence of its clients…I cannot imagine having to drink it. This is a train wreck of monumental proportions. 67-68 points."
The prices on futures will roll out in the next few weeks/months. Hit the comments with your thoughts on Lafite!