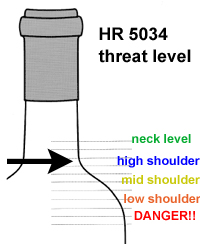 On April 15, a motley coalition of first-year and retiring members of Congress from both parties introduced a bill. The proposed legislation would restrict legal challenges to the interstate shipment of wine. Tom Wark, head of the Specialty Wine Retailers Association, described it as "the most onerous consumer wine law since the passage of the 18th Amendment and the onset of Prohibition." Wine Spectator obtained a copy of a draft bill written by the National Beer Wholesalers' Association and compared it to H.R. 5034 and deemed them "largely identical." (See the bill's text here.)
Of course, bills get introduced all the time as fobs to political contributors and then they don't make it very far down the arduous path to becoming law.
We have devised a threat-meter for this particular bill. Normally a bill like this would have zero chance in becoming law before the 111th Congress adjourns. But right now we are one notch above zero (neck level) with a "high shoulder" rating. Why? A few reasons that all boil down to the deep pockets and skill of those behind the legislation.
One worrisome aspect is that in order for the bill to become law, it must get voted out of committee. The bill has been assigned to the House Judiciary committee, chaired by John Conyers from Michigan. Tom Wark has described Michigan as one state whose elected officials are "completely controlled" by wholesalers through their campaign contributions. (Michigan was the losing plaintiff in Granholm v. Heald, the 2005 case that liberalized wine shipments.) Indeed, the National Beer Wholesalers Association was one of the top 5 donors to John Conyers for the past two election cycles.
Hopefully, legislators will see this as the gross overreach that it is on the part of distributors. It would be great if reaction from wine enthusiasts turned the initiative in to the wholesalers' last stand, legislatively. But that is unlikely.
We will keep you posted here if the threat level changes. You can also join the Facebook group Stop HR5034 (over 1,500 members already) for updates. And in case this bill does go anywhere, hit the comments with your thoughts about who we can send a huge amount of corks to–or other possible steps to effectively make our voices heard.
RH.R.5034 – Comprehensive Alcohol Regulatory Effectiveness (CARE) Act of 2010. Sponsors are Rep. Bill Delehunt (D) MA; Rep. Howard Coble (R) NC; Rep. Mike Quigley (D) IL; Rep. Jason Chaffetz (R) UT
Related: Wine Politics: How Governments, Environmentalists, Mobsters, and Critics Influence the Wines We Drink