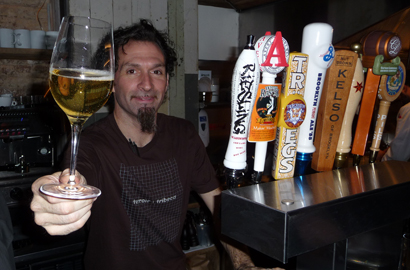 Two years and several inches of goatee later, Paul Grieco and chef Marco Canora of Hearth Restaurant open a second branch of Terroir wine bar today. Photographed at the pre-opening opening last night, wine impresario Grieco hands over a glass of bubbly. (See pix from the opening of the original location for the goatee watch.) Next to him are the beer taps, but eagle-eyed readers will note the tap closest to him is actually for Finger Lakes Riesling! Yes, they are having Riesling keggers in Tribeca now.

The venue features a similar menu and innovative wine list as the other location, now known as Terroir EVil. But Terroir Tribeca has three times the space, with 72 seats as opposed to just 24.
You can check out a wacky, unedited video tour of the place here.
24 Harrison St (@Greenwich St), Tribeca.