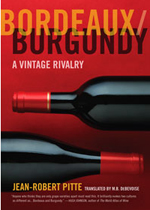 Points. Prices. There you have the all-important details in the cynic's view of the discussion about Bordeaux 2009!
Only, it's not so cynical according to Mike Steinberger's posting from yesterday on Slate. While he admits he really likes some Bordeaux, he finds the charm and character of the smaller scale vineyards of Burgundy more rewarding at many levels, including in the glass.
In a nutshell, he says: "In Burgundy, wine is still wine; in Bordeaux, it has been reduced to a number…all those Pomerols and Pauillacs could just as easily be pork bellies. This may be the reality of Bordeaux, circa 2010, but I find it pretty dispiriting."
I am sympathetic. How about you?

Loading ...
Related: "Why I'm a Burgundy man" [Slate]
"Why Hate Bordeaux?" [Diners Journal]