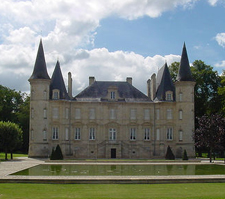 Over the past month, critics and wine trade buyers have been on the ground in Bordeaux, tasting the 2009 vintage before they go on pre-sale (as "futures") in the coming months. Even though the wines, now in barrel, have yet to finish their aging and the blend will likely be adjusted between now and bottling, the outsiders flocked in record number this year. Before the grapes were even harvested, some commentators and industry participants had hailed this vintage as superb, everyone making parallels to 2005 and some even invoking the storied 1947.
So how did things pan out in the glass? There is always a dash to opine first and Twitter has allowed that to happen in real time. But before turning to the tweets, this past weekend saw the first summary article, in the WSJ. Freelancer Jacqueline Friedrich writes up a thoughtful piece. In it, she expresses how difficult it is to taste unfinished wines, calling them "raw, hard, closed, astringent and achingly tannic." Also, instead of handing down iron-clad truths to her readers, she is honest in suggesting uncertainty, "no matter how discerning and experienced the taster, the verdict can be wrong, or wrongish." Her summary comment as to the overall quality is that they are "pretty damned good, and the best may be mythic." She then invokes a similarity to the wines of the Rhone and lists five wines–Cos, Pontet-Canet, Palmer, Leoville-Barton, and Valandraud–with no point scores!
On to the dispatches from the Twitterverse! Tim Atkin, until recently wine writer for The Guardian but now at the Times of London, gets the 2009 prize for Best Twitter. Other active and opinionated tweeters included Simon Staples, buyer at Berry, Bros and Rudd in London, Jancis Robinson, and James Suckling and Robert Parker on occasion. Francois Mauss of the Grand Jury Européen also sent in some reactions via email.
Overall
@BigSiTheWineGuy Definite mixed bag vintage. No way as consistent as 05. not a Sauternes year. Dry whites or Merlot year.Some superstars
Steven Spurrier (on Decanter): the 2009 was the best vintage that Bordeaux had ever produced.
Francois Mauss: this vintage is the first one, from many years, where the difference between those looking for "power" (to be nice for Parker) and those who did look after finesse, complexity and freshness (i.e. without any work on extraction, having enough faith in the grapes), so where the difference is very sensible.
Update: @JohnBGilman: 2009 Bordeaux vintage- some great wines, but surprisingly inconsistent, w/ some real train wrecks as well- be forewarned & skeptical.
On top/notable wines:
@Timatkin: Provisional scores top #bdx09. Lafite 100. Latour 99. Cheval 100. Haut-B 97. Margaux 98. Mouton 94. Ausone 97. Petrus 98. Yquem 99
James Suckling released some scores. Though not via Twitter.
@Timatkin: Pontet Canet brilliant. Right up there with the very best. A chateau that understands elegance. Biodynamic too. #bdx09
@JancisRobinson; Haut-Brion team show how to handle high alcohol. It's the most potent ever but still manages to have HB character in spades.
Francois Mauss: whatever may be said around, 2 huge success : Vieux Château Certan and Haut-Brion.
@Timatkin: Lafite amazing. Mouton disappointingly over-oaked and Californian. Cos massive but almost too much. Prefered Pagodes.
@BigSiTheWineGuy Cos grand vin may be unaffordable but this Pagodes is greater than many Grand Vin BUY!!
Update: @JohnBGilman: Most egregious example- 09 Cos d'Estournal- nearly 15% alcohol- pruney & syrupy, w/ a dank palate & tons of raw oak- brazenly crass
@Timatkin: Troplong-Mondot a ludicrous 15.5%. Tertre Roteboeuf 15.6% alcohol. Help!
@Decantercom: #bdx2009 is like '82. It's living up to the hype &takes its place in list of great vintages.
@Timatkin: Cheval Blanc one of the wines of the vintage. But Right Bank very variable. Beware hype from the likes of Decanter.
Sauternes/sweet wines
@JancisRobinson: Sauternes 09? Mmmmm. Can this please be the vintage that reminds pple how good these wines are?
@BigSiTheWineGuy Definite mixed bag vintage. No way as consistent as 05. not a Sauternes year. Dry whites or Merlot year.Some superstars
Francois Mauss: sweet wines which have achieved by far the very best in all area.
On barometric pressure:
@RobertMParkerJr: …had 13 days of splendid weather-always better to taste barrel samples when the barometric pressure is high-lucked out…
@JamesSuckling: Beautiful sunny day for tasting…I love high pressure days baby…
On Asian buyers:
@RobertMParkerJr: …word on the street is that the Chinese will be big players for 2009s…we shall see in 45 days or so
@JancisRobinson:Wonder where all these famous Chinese buyers of #bdx09 are? Haven't seen one myself.
@JamesSuckling: True. Far East bigger for Bordeaux. But long conversation with Acker Merrill boys last night. Chinese won't buy much en primeur
On prices
@Timatkin: Weird that the Bdx trade waiting for verdicts of two US critics before setting prices when most Europeans don't agree with their palates.
@TimAtkin: The problem with all these silly vintage of the century comments is they will inflate prices further. Journos short changing punters
@RobertMParkerJr: back from 13 days in BORDEAUX TASTING 2009 &2007,huge international interest in 2009, but prices for "wine futures" won't come out until May
@JamesSuckling: Starting to hear concern from some negociants and wine producers in Bordeaux on the market prospects for 2009….
@JamesSuckling: Prices for 2009 Bordeaux are going to be really inflated for the top stuff. It's the way it is going to be…