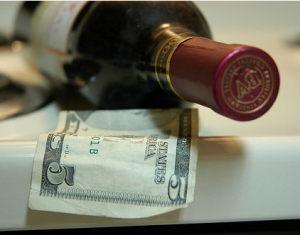 Could California's wine excise tax increase 12,600 percent?
If Josie and Kent M. Whitney have their way, it will. According to the Sonoma Valley Sun (via wineopinions), the Secretary of State has cleared their ballot initiative that would raise the excise tax on a regular bottle of wine from four cents to…$5.11. They estimate this would raise $7 – $9 billion for the state's coffers. (See more on the proposal at ballotopedia.org)
The only thing standing in the way of this rise is the fact that the Whitneys need the signatures of 433,971 voters — and then half the votes on the referendum in the fall.
While excise taxes might be the type of strong brew that only a few politicians can raise, it's extremely unlikely that voters would really want to raise these taxes in such a drastic manner both out of their own self-interest and protecting the local industry. (If the mild reversal in California's budgetary woes reported on Bloomberg today continues, any popularity for the initiative could be dampened.) But where there is no local wine industry, excise taxes do have a habit of creeping up every year…