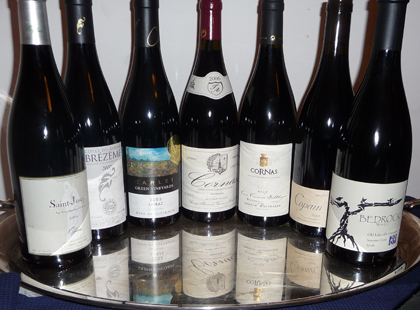 While Merlot's fall from grace can be traced to one line in the movie Sideways, the fall of Syrah has been more difficult to track. Australian wine, with Shiraz as the signature grape, has experienced a decline in sales over the past couple of years. Even more broadly, it's still a tough sell: producers and retailers have repeatedly told me that save for a few appellations in the Northern Rhone, the homeland of the grape, Syrah remains a sluggish category.
I was happy to have the chance to check in with Syrah by organizing a small tasting at a private residence last week. In putting together the seven wines in the lineup, I wanted to be sure to include examples from Australia, the US and the Northern Rhone but had the usual constraint that the wines actually had to be available locally. I decided to spare the tasters the hot-climate, jammy style and the boring cheapie style since they were probably most familiar with those, especially the latter, which is poured with abandon at fundraisers and art gallery openings.
The Carlei, Heathcote Shiraz, Green Vineyards 2003 from Victoria opened our tasting. Unlike many Australian shirazes it was (a) from a cool climate, (b) older, and (c) 13.9% alcohol. It still is a big, flavorful wine but the moderate alcohol broadened the appeal of this one. The $16 price tag helped too.
Next we were off to Mendocino County, California with the multi-vineyard Tous Ensemble 2007 from Copain (about $20). The winemaker, Wells Guthrie, oversees organic viticulture and makes the wines with native yeasts. It was quite a bit lighter than the Carlei, with reticent aromas and higher acidity; some thought it a bit too light and straightforward.
Then we tried the J. L. Chave, St. Joseph, "Offerus" 2006 (about $28). Made by JL Chave Selections, the wine is from purchased fruit as opposed to estate vineyards (actually, it is often made from up to nine sources of purchased wine). There were lots of oohs and ahs over this one as it seemed to find a good balance of fruit, notes of black olives, fresh coffee grinds, good acidity, and moderate alcohol.
Next up was the Eric Texier, Cotes du Rhone, Brezeme 2007 (about $19). This 100% syrah was strikingly different for it's restraint, especially weighing in at a scant 12% alcohol on the label. After working as a nuclear scientist, Texier turned to wine, making his first in Burgundy. It shows in this delicate, high-acid style with a dark floral lift. Some loved it while others wanted their syrah to pack more punch.
I poured the next wine blind for the group, asking them to determine if it was an old world wine or a new world one. However, the dark color and searing alcohol (15.5% on the label) made it easy for them to guess. We were back to California with a wine from Morgan Twain-Peterson, Old Lakeville Vineyard Syrah 2007 ($36). The 29-year-old's new label, Bedrock Wine Co, has some interesting wines and I wanted to try one in this lineup. A few people liked it but most found it too overbearing. It's worth noteing that his '08 of the same wine has dropped the alcohol by over one percent.
Finally, we turned to two excellent and hard-to-find wines from the northern Rhone appellation of Cornas, where vines cling to steep hillsides. Our sixth wine was the excellent Cuvée Casimir 2007 ($35) by Franck Balthazar, another engineer who, in this case, came back to the family wine making fold in 2002. This cuvée comes from a parcel of 46-year-old, horse-plowed vines comes, fermented with whole clusters of grapes and then aged in 600-liter oak barrels called "demi-muids" for 18 months. This wine really showed beautifully, with notes of violets, black currants, and a grind of white pepper. It has fine balance between the acid and tannin, and even edged out the last wine in popularity.
Our final wine was the "Chaillot" 2006 (about $56) from the famed, rugged individualist Thierry Allemand. With notes of lavender, dark fruits and a certain meaty gravitas on the nose, this wine has gorgeous balance and integration of the components to make for a great texture. It was an elegant treat to top off this fun tasting.