SPIT: reform in Maryland
Reforming Maryland's wine law, where it is a felony to ship wine to consumers, is all but dead for this year. Despite having a majority of co-sponsors in both chambers of the state legislature, the bill has been farmed out for further study. Read the autopsy of reform over on Baltsun.com. As a chaser, check out Tom Wark's "manifesto for change in the wine industry" over on Fermentation.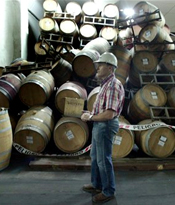 SPIT: business as usual
The aftershocks of the earthquake that rocked Chile and its wine industry continue to be felt. "Everybody is struggling to keep up with the harvest. I wouldn't be surprised if some wineries don't make it," an AP story quotes one winemaker as saying. Grape prices have risen, the harvest is at hand, and there is still much infrastructure in need of repair. [Photo: reduced size crop of AP image]
SIPPED: turning tide?
A more sanguine take on the state of Napa's economy; Nielsen data show wine sales at stores increased 4.6% in February year-over-year with the previously anemic category of wines over $20 showing 12.6 percent growth. Of note: the Super Bowl was on Feb 7 this year as opposed to Feb 1 of last year.
SPIT: business models
Three wine makers from California who were victims of the recession receive profiles in the LAT.
SPIT: extra weight
In the name of a smaller carbon footprint, the Champagne bureau has announced that 90% of Champagne bottles will be lighter weight within two years. They will still be strong enough to withstand the several atomospheres worth of pressure, however. Just easier to break when baptizing boats. [Timesonline]
SPIT: wine on TV; SIPPED: strength of will
Before it even shoots its first program, a proposed wine TV channel may be banned by French authorities on the basis of violating the Loi Evin. Undaunted, the people behind the channel, Edonys, press ahead. [Decanter]