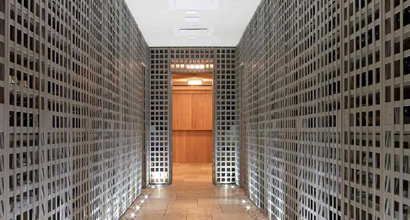 We all want to order wine like a pro at a restaurant. But apparently ordering wine off a wine list is an extremely pressure-filled situation for many people, ranking right up there with fear of public speaking and fear of grizzly bears. So with a new, recurring feature on this site, we aim to help you order wine like with aplomb and find an excellent deal.
Although regular wine markup in restaurants is 300 percent of the wholesale cost, many wine lists have hidden deals. There are any number of reasons why they exist: Perhaps the sommelier has a soft spot for an unheralded grape and slips it on the list with a low markup or maybe there is a closeout item and the restaurant passes on the savings.
Today's such gem comes from Bar Boulud. To accompany the restaurant's extensive charcuterie menu, wine director Michael Madrigale runs an innovative program that focuses largely on wines from the Rhone and Burgundy. One of the exciting things he does is feature a different large format bottle, often a rare mature wine, open it and pour it by the glass. (Follow on Twitter to see which wines are being poured.)
But one deal that he doesn't telegraph is what he calls "the nugget." On the wine list at any given moment is a wine that Madrigale puts on for the wholesale cost (that is to say, even below retail). He doesn't highlight the item and it's often an obscure, wine geek's wine and his stock can be quickly depleted. Diners have to spot the wine on the list as being an outrageous value, and then order it and accept it. At that point Madrigale lets them know the value they have uncorked. "Usually, they are quite happy about their choice," he says. Previous such wines have included Chapoutier's '04 Cornas "Les Arenes" for $55 and the Chateau Grillet 2004.
So order wine like an insider when next at Bar Boulud. The current nugget is…Eric Texier, 2000 Hermitage rouge for $69.
Bar Boulud
1900 Broadway (between 63rd & 64th) New York, NY 10023
(212) 595-0303