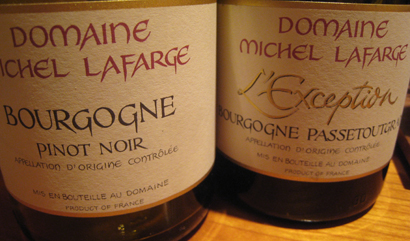 I recently bought the 2007 Lafarge Bourgogne rouge ($30; find this wine) and popped it open on a Friday evening for Mrs. Vino. With the delicious pinot noir in our glasses, light in color with excellent balance between acid and youthful tannin, the weekend was off to a great start. Then our neighbor dropped by to collect his son and, in no time flat, the bottle was empty. Our sipping wine got gulped! Good thing that fun wines are for sharing.
When I was speaking with Becky Wasserman recently, the Burgundy-based exporter of this and many other wines, she suggested to get to know a Burgundy producer by their Bourgogne rouge, a sort of house calling card for a relatively low entry point. In the case of Domaine Michel Lafarge, I've also had the chance to try the recent vintages of his Volnay; the 2006 has great snap and the 2007 has fine balance. So, good advice.
A previous evening Mrs. Vino and I enjoyed the Lafarge Bourgogne Passetoutgrain 2007, "L'Exception" ($24; find this wine). Passetoutgrain is the rare red Burgundy that allows grapes other than pinot noir in the wine since it is a blend that includes gamay. In this case, the grapes are interspersed in in the same vineyard (a field blend, as it is known) of fifty-five year old vines. They are harvested and fermented together. The resulting wine combines the gulpability of gamay with the structure of pinot. While I preferred the Bourgogne rouge, this is still a fun wine–as such, this switch-hitter is good for a relaxed evening of sipping but still a good choice in case any gulping neighbors drop by.