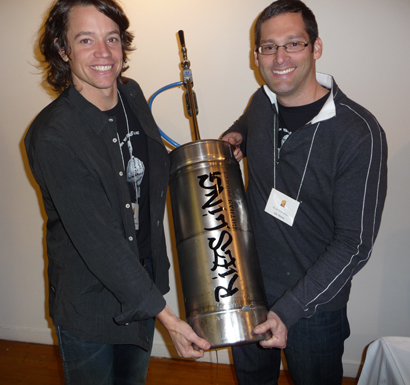 The alternative packaging trend gets bigger and reusable: a 2009 Riesling from the Finger Lakes in 20-liter tank will soon be available in NYC.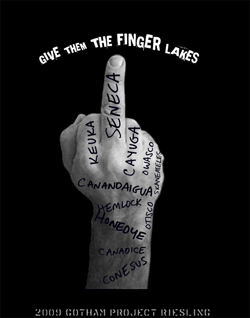 Known as Gotham Project, the thirst-quenching Riesling is the brainchild of Charles Bieler (above, left), of Bieler Rose in Provence and one of the Three Thieves, and Bruce Schneider (right), of Schneider Vineyards on Long Island. Bars and restaurants will be able to get it from local distributor Michael Skurnik; the only open question is whether it will be available for homes, as rooftops and poolsides beckon…
UPDATE: You can't see it clearly in the photo, but both Bieler and Schneider are wearing black t-shirts saying "Give them the Finger Lakes." I reproduce the image here courtesy of designer Steven Solomon. Welcome to New Yawk!