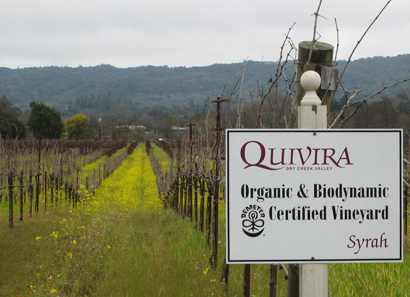 Why don't green-minded vintners and vignerons always display their eco-friendly methods on the label?
I've often asked why and replies generally come in the form of the producer's desire to have the wine liked for the quality as opposed to the methodology per se. Or, where organic in spirit, a common reply has been a dislike for administrative costs of filing and/or wanting to maintain the flexibility to spray if necessary.
An academic paper presents findings that may not lead to more eco-labeling: Certifying a winery as organic or Biodynamic will raise the price of wine 13 percent but putting that on the label will see the price fall by 20 percent.
Magali Delmas and Laura Grant, of UCLA and UCSB respectively, examined 13,400 California wines from an eight-year period ending in 2005 to reach their conclusions, which will appear in a forthcoming issue of the journal Business & Society. It's certainly possible to quibble with their data: only 28 of the all-California wineries were certified and only 16 of the wines in the data set received the eco-labeling. The wines were expensive (about $37 a bottle) and the quality bump, as measured by WS scores, was slight (less than one point) as well as low, scoring less than 84.
They explain the premium for certification largely as the good will recognition akin to club membership. It would be interesting if they could explore quality further as I think that could be more convincing than the social effect in explaining the premium.
To explain the discount for labeling, they cite various winemakers who say that "organic" remains a stigma in the eyes of consumers. Such a comment seems oddly disconnected with the current era of Whole Foods and local and sustainable foods; younger consumers don't see it as a stigma, I'd venture to say.
Part of the reason for the discount, they argue, is consumer confusion over the various labels and certifications, particularly since so few wines qualify for the organic standard, thus only qualifying for the looser "made from organically grown grapes" standard. They also show that consumers have little knowledge of Biodynamics with only 17 percent of respondents in a previous study being familiar with the term and only eight percent having tried a Biodynamic wine. (Of the respondents who were unfamiliar with the term, the single largest response as to what it meant was that it was genetically engineered or modified.)
What do you think–why is there an apparent discount for eco-labeling as opposed to eco-certification?
Delmas, M. and Grant, L. Forthcoming. "Eco-labeling Strategies and Price-Premium: The Wine Industry Puzzle." Business and Society. (pdf)