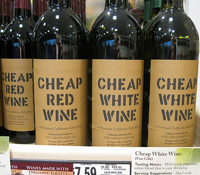 SPIT: a move upmarket
The Chilean wine industry attempted a concerted move upmarket a few years ago. But the strong peso and weak global economy have crushed those plans. To wit: exports were up a whopping 17.6% by volume last year but flat by value. [LA Times]
SPIT: California bargains
Mike Steinberger contemplates the puzzle of why so few "superstar" winemakers in California make wines under $20. We discussed the lack of tasty California values last year in relation to Fred Franzia, and heard from wine importer Bobby Kacher and winemaker Patrick Campbell.
SPIT: urban winemaking
Crushpad, the pioneer urban winery in San Francisco, has announced it will move its operations to Napa where its main supplier has space. Of note: two-thirds of their clients are commercial wine brands. [NYT]
SIPPED: innovation
While New York is debating selling wine in grocery stores (and foods in wine stores), Pennsylvania, where the state still owns all the wine stores, gets wine bars in supermarkets! Groc-o-pubs anyone? [Philly.com]
SIPPED: footy!
Unruly winery visitors in the Finger Lakes will get yellow and red cards. [WENY]
SPIT: truth
A shocking piece on Slate.com reveals that during Prohibition, federal officials "ordered the poisoning of industrial alcohols manufactured in the United States, products regularly stolen by bootleggers and resold as drinkable spirits. The idea was to scare people into giving up illicit drinking." But instead it accounted for 10,000 fatalities. Unmentioned in the brief story, but maybe people were on to the scheme and that helped account for the rise in home winemaking during Prohibition?