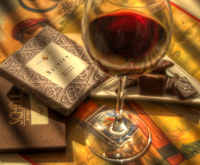 Valentine's Day is rapidly approaching. It has reignited the annual hot debate in anticipation of the hot date: should you pair wine and chocolate?
Consider this exchange. Paul Grieco, owner of Hearth restaurant and Terroir wine bar in NYC, tweeted that he was going on the TODAY show to talk wine and chocolate. (See segment here: both regular and sparkling shiraz feature.) Eric Asimov tweets back "chocolate and wine? what are you thinking, man? Who cares about what to drink with chocolate? Food mag nonsense."
Oooh, snap! Wine and chocolate are two fine things. But this is one of those "impossible" pairings that has yet to convince me. My rule of thumb: Have wine before dinner. Have wine with dinner. But let chocolate dessert stand alone! Then resume drinking, if necessary. (Or try a Banyuls with the chocolate dessert if it's a question of life or date.)
Have your say about the great chocofight 2010 in the comments–or with the latest poll!

Loading ...