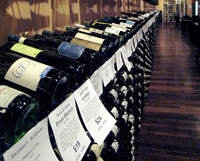 Several states in America, land of the free, own the means of distribution–when it comes to wine, spirits and beer. You don't have to be a Tea Party member to wonder if this is the best arrangement.
Thanks to shortfalls in state budgets, state authorities are increasingly looking to liberalize liquor distribution according to a piece in the WSJ yesterday. The issue is in play in at least Washington State, Virginia, North Carolina, Mississippi, and Vermont.
Privatization could be a mixed bag for wine enthusiasts. Consider the story of Chicago parking meters.
In early 2009, without much debate, the city council decided to sell a 75-year lease to operate the city's parking meters. A private group led by Morgan Stanley paid $1.2 billion (about 60 times 2008 meter revenues), a portion of which helped plug the immediate budget shortfall. The first thing the group did was raise the meter rates. Then the group raised rates again, quadrupling in some areas during year one. In the first few weeks, there were reports of vandalism of the meters, a lack of repair from the new authority, confusing new meters, a lack of response to citizens and journalists who called with questions, and a higher incidence of parking tickets (the revenue from which the private group keeps). A poll last fall found that nine out of ten Chicagoans didn't like the deal and Mayor Daley ("mayor for life") saw his approval rating drop below 35 percent.
This example has a couple of lessons for wine. First, privatization does not equal liberalization: slothful monopolists who raise prices and limit choices can be either public or private. So as states contemplate privatizing alcohol distribution, the key aspect is fostering competition that allows niche distributors to emerge to sell fun, small production wines from the Cote Chalonnaise, or wherever. And why not take liberalization all the way and mandate out-of-state shipping from both wineries and retailers at the same time, with a mechanism to secure tax collection? Or allow ways for innovative retailers, restaurants or wineries to handle their own sourcing or supplying of wines, free of a middle tier? Or allow multiple distributors in a state to carry the same wines?
Further, privatization can easily be botched by the short-term thinking that drives most politicians: Don't sell a 75-year lease for something that the private firm(s) can recoup in a fraction of that time. Privatization would also create more private profits that could be cycled back into electoral campaigns for politicians, further entrenching the prevailing three-tier system. Whether or not you want to raise a glass to that may depend on where you live.