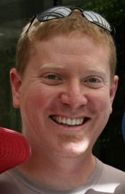 Jason Haas went to Sacramento thinking thin. He came away disappointed.
Although it's known for belt-tightening of a different kind, Sacramento is not known as a weight-loss destination. In fact, Haas, the general manager at Tablas Creek Vineyards in Paso Robles was attending an enormous wine trade show. He recounts on his blog how set out to find a lighter bottle for his top wine, Esprit de Beaucastel, a red blend that retails for about $50. But, in the end, he wasn't happy:
It became clear that the bottle manufacturers have been taken by surprise with wineries' desires for lighter bottles. Most of the lightest bottles that they make still are intended for the lowest-end wines. They look cheap. What we're looking for is a bottle that looks like a top-end bottle, but weighs half as much. And, somewhat to our surprise, those bottles just don't exist yet.
Specifically, Haas is looking to replace the 900 gram (almost 2 lbs!), oversized bottle with something half that weight. While he could find something acceptable weighing 700g, he writes that lighter than that the bottles "look cheap" with none having the same shape and proportions of top Burgundy bottles and none that "imply quality." About 9,000 cases of Esprit de Beaucastel were made last year, or 108,000 bottles. As he points out in his post, reducing the weight of each in half would make a real difference on the carbon footprint of the wine and bring it more into line with the winery's efforts at environmental responsibility, instead of undermining them. Congratulations to him on thinking thin.
What do you think he should do? One solution might be to go to a 450g bottle for one of the winery's other, higher volume wines and gauge reactions. It's my impression that consumers are ahead of wineries on this issue and wineries are apparently ahead of bottle makers: hopefully one day, wineries will stop prejudging a wine's apparent quality for consumers with bulky, bling bottles from a bygone era. Give us good wine, give us a pretty front label and an informative back label, but keep the heavy bottle.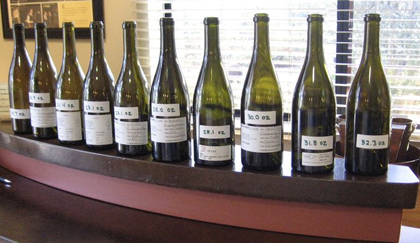 Images reproduced with permission.