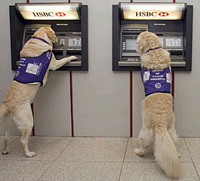 Have you ever been in a New York wine store and thought there was something missing? Maybe gourmet cheese? Gift bags? Cigars? No, no–an ATM!
Well, if you've ever thought that then you will like Governor Paterson's latest proposal to allow wine sales in food stores. He tried it last year but the measure was poorly thought out since it just focused on the grocery stores selling wine and not what would happen to current wine and spirits stores. Ultimately, it met resistance, and was dropped.
But it has been re-animated this budgetary year and this time the governor is trying to mollify the opposition by allowing wine stores to also sell "non-alcoholic beverages, food products, newspapers, cigars, gift packaging, glassware and storage items for wine and spirits." (Note: no beer.) Licensees could also have more than one store, buy with other shops in a consortium, sell wine to restaurants and bars, have 60 days to pay for suppliers wine instead of 30 and, yes, have ATMs!
Such concessions constitute an admission that the proposed reform will hurt the business of existing wine stores. Indeed, the group opposing the reform, The Last Store on Main Street, claims it will cause the closing of almost 40 percent of New York State's 2,400 wine stores. The group also claims that liberalizing wine retail laws would lead to an increase in underage drinking. It's too bad they played the underage card since it always seems to be stooping to fear-mongering. Is there more underage drinking in the 35 states that do allow wine purchases at grocery stores? I doubt it.
While the New York laws are in many ways absurd, the best pro-consumer argument in support of them is that the there are so many great wine shops (particularly in and around the City). The protectionist laws have contributed to the building of an incredible wine culture. Retailer Jeff Zacharia commented that he thinks the number of fine wines available in the NY market would shrink if the proposal passes. Unfortunately, he did not elaborate on this point.
Will that culture remain without the laws? Probably, almost entirely; there are great wine cultures in San Francisco and Chicago to name a couple of cities where supermarkets sell wine. But it will be less profitable for good wine merchants as some wine consumers opt for the convenience of throwing a wine in their grocery cart, hence the governor's concession to allow sell food and knickknacks. (For the boring shops trading on location–last year we called these the wine & liqu–they will have to rely on spirits sales and ATMs. Or step up their service or selection.)
New York budget politics are uncertain but this proposal seems better designed for passage than last year. But if it is going to happen, why not sweep away the remaining restrictions and allow wine stores to sell beer, as grocery stores will be able to sell both, and allow them to open at 9 AM on Sunday. Stay tuned for the log-rolling between now and April 1.