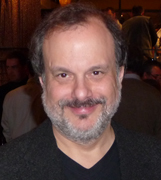 Is Riesling a hard sell? Has the bubble burst on his Champagnes made by those who grow the grapes? Just how good is 2009? On Tuesday, I pulled wine importer Terry Theise aside at the trade tasting of his New York distributor, Michael Skurnik Wines. We discussed these topics–and more. To the tape!
2009—great vintage or the greatest vintage?
Whoa! A Stephen Colbert question! I can't pick a side! I don't know. I've tasted too few. The only things I've tasted is what we have here. Certainly in Champagne, they are over the moon about it. You know, Tyler, honestly, when the reports started coming in about 09, I found myself not especially eager to read them. I'm not sure that the market is really kind of dilated to receive another superb vintage. All of us merchants are contemplating that fact that we used to be able to rely on a vintage bounce if the vintage was perceived to be exceptionally good. But there have been so many good vintages cheek by jowl that at this point that somebody for whatever reason is not ready to buy wine is left completely cold by the argument that it's a great vintage. That person will just say, "Hey, there'll be another one in a year or two. I've got no money or no space in the cellar or whatever, I'm just going to miss it."
So I just looked at 2009 in Germany at least and said, short crop: will have upward pressure on prices. Outstanding quality, which means there won't be very many of the wines of the types that I need. So I just kind of looked at and thought, hmmm. I'm sure when I taste them I'll come back excited by them. Irrespective of the quality of the wines, speaking from a purely mercantile sense, it is the wrong vintage for its moment. Mind you, 2008 was the right vintage for its moment and thankfully there are still plenty of 08s available. Plentiful, not overripe, gave a reasonably decent sized community of wines that could retail for under $25 and was what we really needed—and still need.
On that note, Riesling is very popular now, but how about Riesling over $30?
Still a very difficult sell. I would say two things to that. First, I think the popularity of Riesling is occurring in the echo chamber of people who like Riesling and like talking about it and writing about it but don't necessarily like purchasing it, particularly in its dry form. I think there's more chatter about Riesling—which is good—than there is real discernible commercial activity. That being said, we're selling three times more Riesling than we did in the nineties, so all these things are relative. For public attribution, obviously one wants to be able to say, "yay! It's gung-ho! Everybody's crazy about it! We can't keep them in stock!" But Riesling is a niche market. It is a growing niche. It has room to grow more. The question is whether it will or should emerge from the niche. And it's really important to keep that "should" in that sentence. Dry Riesling is a niche of the niche.
Why is dry Riesling less popular?
I wish I knew—I truly don't understand it. I can only infer from experience: even drinking great dry Riesling is an experience that seems too cerebral for a mass audience. I don't see it that way. I like cerebral wines. But that's not my sine qua non. I also like sensual and hedonistic wines and there are plenty of dry Rieslings that are sensual and hedonistic. Look at Brundlmayer or Hirsch or the best of Nikolaihof or the best among the Germans as well. My own sense is that five to 10 years ago, Riesling was definitely in on the ascent. Right now, it's kind of flying in circles, it's in a holding pattern. It doesn't really have a landing vector yet. It's still being talked about but the chatter is not being reflected in the kind of numbers that would give me the impression—look, we're doing well, more than surviving. Look around you. But let me put it this way: you have a lot of people who have eagerly come here to taste Riesling. But when they go back to their stores or restaurants, and they start looking at what they order, suddenly the budget parameters start to shrink and they lose their courage, they lose their nerve. They'll say "this is the only slot we have for Riesling," or "It's only this amount of shelf space," or "it only has this amount of wine list space." To which I would say: make it more! You have a lot of wine that you don't need on your list.
I was in a restaurant in New York last night—I won't say the name—overwhelmingly a fish-oriented restaurant. The wine list was half and half red and white wine. What's all that red wine doing on that list? It doesn't belong it doesn't work with the food? Why is it there? Eat a piece of branzino and have a Gruad Larose with it? I shudder to think about what's going on in people's mouths. Why is it there? What we need to see is people who are saying we have 35 chardonnays on the list and six Rieslings. We're going to have 27 chardonnays and 13 Rieslings. And that is something that we're not really seeing. It used to be that we'd see people with two Rieslings on the list and now they have seven. Great. But when you actually look at the best value for money, the wine works best with the food, the thing that will be the most nourishing for everybody in the process from an emotional, spiritual, and intellectual standpoint, it's not reflected in what's out there.
Négociant champagnes have been having a tough time right now; what about grower champagnes, by contrast?
We're doing all right. We had a surprisingly good year. It was not quite as good as 2008. But we all know the figures: we see the CIVC shipments are down by whatever it is, 30%, but we were down nominally, a single digit. Our sales have been pretty good. So in that sense, from the marketing standpoint, having been doing grower champagne for 11 years, the campaign has been successful. If you just look at the numbers, there were 33 RMs [a designation on the label for those who grow grapes and make wine -ed.] when I started, there are now almost 180. It was 0.62% of the market in 1997; it's now 3.05% of the market. So that's been completely successful—I have no complaint whatsoever about my grower champagne business or the willingness of people to embrace the idea. I wouldn't go so far as to say it has been shooting fish in a barrel but it has been the easiest sale I've ever made.
Why?
It's French and not German. It's champagne. It was the right idea for its time. It was the right idea period. It was the last place in France that was dominated by negociants, everywhere else in France, wine drinkers had learned to seek out the best domains. So that's all you had to do, is ask why stop at Champagne? It was an easy argument to make for journalists particularly because it was a great story. I remember I told someone who was doing a trend alert for TIME magazine and we were on the phone, and I was riffing, and said "Champagne is the last place in the wine world where you can watch the proletariat taking back the means of production." And she was like, "Whoa! That's a really good quote! How do you spell proletariat?" It was an idea that was immensely appealing, especially to Americans with our love of the underdog.
Then the fact that the big houses continued to conduct themselves in such an incredibly cynical and smarmy manner, just played into our hands. So with my farmer fizz biz, I'm like totally cool. Thank you. You all get it. I love you. Thank you for sticking your necks out. I appreciate it.
One-liter bottles appear a trend now with many good ones here today. A wine for the times?
Very much so. Easy drinking, good value. One thing that I like about the one-liters especially the ones with crown caps, is that they emit an aura of unpretentiousness. [Such as Hofer and Berger –ed.] But when you taste the wine, it's surprisingly good. It's been for us, mostly an Austria phenomenon and mostly a Gruner Veltliner phenomenon. It's mostly been a way for people to easily enjoy and appreciate Gruner Veltliner in its lighter echelon. You don't really see liters of Riesling in Austria because there's not enough Riesling made. But we do liters of Riesling and Silvaner from Germany. They do okay. But they don't do as well as the Gruner Veltliners do. Again, I think it has to do with it being Riesling. I could have utterly delicious, dirt cheap outstanding dry Riesling from Germany and it would be twenty times a harder sell than the Austrian Gruner Veltliners. I don't know why!
So that's why you hear me sounding a little bit cynical about hearing all these people talking about Riesling: why aren't they kicking some ass?
It sounds like it was actually a good year for you last year. Yet for your tasting catalogue last year, you appeared topless but this year, in a bathrobe. Why the modesty?
I think that there were still some people who were getting over the nervous and psychological shock of seeing me topless and I just don't want to be responsible for people having somatic breakdowns. So yes, we decided it was going to be a Riesling for breakfast theme. And I don't eat breakfast in the nude, sorry.