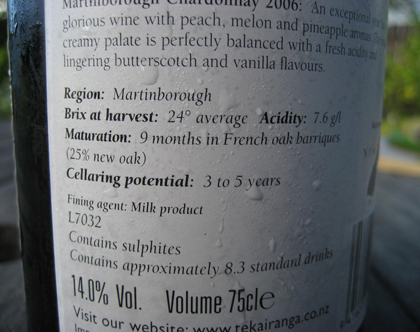 Yesterday's post sparked a discussion about which words and/or information you really would like to have on a back label. While everyone can agree that pabulum (ahem, "handcrafted") should end up in the dump bucket rather than the back label, what would you like to see?
A site reader sent in the above photo from New Zealand, which blends tech specs with some yadda yadda. Another small importer/distributor commented that half the people he asked actually wanted tasting notes on the back label. Do you want grape varieties on the back when place names only appear on the front? Even though about a quarter of wine consumers feel "overwhelmed" by wine, there's still a strong case that, pace Mies van der Rohe, more is indeed more when it comes to useful information on the prime real estate of back labels.
Previously, we discussed Randall Grahm's decision to bare all on his labels and that the FDA may push all producers in that direction. And don't forget barcodes! So here it is, an omnibus thread for all your back label venting/discussion needs!
Please note that this post does not contain sulfites. And that you may operate machinery after reading it.