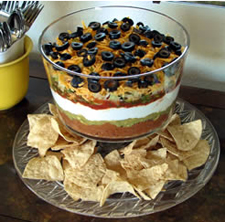 Football playoff season is upon is. The last college game wrapped up last night with the BCS championship and this weekend the NFL playoffs kicks off.
So we need to pair this viewing with some food. Since we have previously tackled wings and chips and salsa, this time we round out the viewing with something heartier: seven layer dip!
For those of you who haven't enjoyed the dish, imagine a layer of refried beans imbued with chiles or other seasoning, then slather on a couple of ripe avocados (or guacamole), smother that in an inch of sour cream, then add an inch of salsa, some lettuce, cheese and possibly olives. Scoop it out with tortilla chips. Although it may sound gross to the uninitiated, it has an amazingly magnetic effect on those in the room.
So what would you pair with seven layer dip–or is it impossible?!?