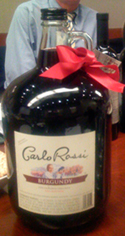 Back in 2008, the prediction about 2009 was that wine consumers would opt for less expensive wine or stop drinking wine in favor of beer, vodka or shoju (actually, nobody said shoju).
So now that the book is closed on 2009, how did your wine buying and consuming change, if at all? Did you deplete your existing stock? Only buy wines on closeout? More dining at home? Hittin' the Carlo Rossi?
Have your say in the poll and comments.

Loading ...