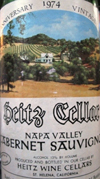 SPIT: controlled storage
James, who has taken a couple of classes of mine in the past year, wrote that he recently pulled the cork on a 1974 Heitz, Martha's Vineyard for his 50th birthday and it was drinking fabulously. I asked him when he got the wine and he replied, "It was stored in a number of different environments since I had the wine since college in 1978. It was stored in my dormitory, then in my parents basement, then in my apartments, then in a controlled storage facility, and finally in a wine storage cooler. And it still turned out to be the best wine I have ever tasted." Most excellent!
SIPPED: musical chairs
Jay Miller publicly states that he will no longer be reviewing Australian wines for the Wine Advocate. In other news, Wolfgang Weber, a senior editor at Wine & Spirits magazine and Italian wine critic, has announced that he will be leaving the magazine to join a boutique wine sales and marketing firm. In neither case has a successor been officially named. UPDATE: W&S Editor and Publisher Josh Greene writes in to say that he will be resuming the role of Italian wine critic for the magazine. UPDATE: Lisa Perrotti-Brown, based in Singapore, will be reviewing the wines of Australia (and New Zealand) for the Wine Advocate.
SPIT: blogging
John Mariani, a longtime wine and food writer, predicts a rise in vapid wine blogs. Sigh. We've seen this movie before. A more bold and original prediction would have been: The quality of blogs increases as journalists have fewer outlets. [Bloomberg]
NOT SIPPED: Johnny Apple's wine
Betsey, widow of legendary NYT reporter Johnny Apple, will put his wine collection up for auction. The story repeatedly mentions his "enviably enormous expense account." To which a former NYT executive editor says: "Johnny Apple would be impossible today, unfortunately." Gawker reacts.
SPIT: alcohol
A buzz without inebriation? Instant sobriety? Such are the claims of an alcohol substitute being developed by Professor David Nutt, sacked as the UK government's drug adviser last year. Should wine be threatened? Not if it is considered a food! [Telegraph]
SIPPED: kind words
The Winnipeg Free Press included this blog in their year-end roundup of notables. And my book, Wine Politics, receives a strong review in the current issue of the food journal, Gastronomica: The Journal of Food and Culture. See the review here or more reviews on the new book review page.