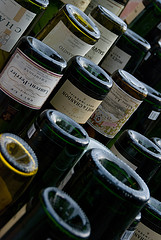 SIPPED: upgrading label info?
No disgorgement date, no review: Antonio Galloni, who reviews Champagnes for The Wine Advocate, announced in issue 186 that if nonvintage Champagne doesn't come with a disgorgement date, then it will not be reviewed. (Discussion ensued over at wineberserkers whether there was a loophole in the statement.) With this information, consumers can have a better handle on the freshness of such wines.
SPIT: bling champagne
The economic downturn has started a bull market in columns about the bear market in Champagne! Alice Feiring got a jump on the competition with her WSJ. magazine piece from September ("Bubbles takes a bath"), a WSJ Europe reporter followed up with another piece this month ("All That Fizzes Is Gold"), and the wine columnists at the NYT and the more spendy Slate.com join the fray with recommendations, with nonvintage bargains under $40 and overall bargains under $100 respectively.
SIPPED: solitude
Ray Isle of F&W escapes the holiday madness of midtown at the Garden Wine Bar at the Four Seasons hotel. There he finds solitude and some more-intriguing-than-usual hotel bar selections. [Tasting Room]
SPIT: business as usual
Eric Asimov serves up a meaty post on the shuffling of the Bordeaux wine trade. [The Pour]
SIPPED: Bordeaux
Driven by sales of red Bordeaux, which country saw a fifteen-fold increase in imports from France during 2002 – 2008? Okay, it's China. But you'll need to click through for the importer stock pick in the story! [WSJ]
SIPPED: looking back
Good Grape and La Otra Botella review memorable moments in wine blogging from the past year.