The weather is rapidly changing: one day, fall; the next day, snow! Here are two natural wines from France that have you covered.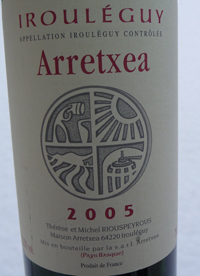 Arretxea, Irouleguy 2005 about $20
This hearty red pairs well with rich foods and cold weather. Although not big and boozy (only 12.5% on the label), the main grape is tannat, which makes wines that are often opaque in their inky purpleness with tons o' tannins. This wine, from the French side of the Basque Country, is a delicious wintry treat, with brooding notes of black cherries, tar, stones and smooth but substantial tannins. Their white is also very good even if a recent vintage was denied the appelllation (again, a condemnation of the appellation system, not the producer). Importer: Kermit Lynch.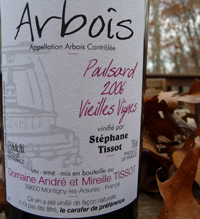 Tissot, Arbois, Poulsard, vielles vignes, Jura 2006 about $17
And if you're feeling more autumnal than wintry, impress your friends with this natural Poulsard. I tried a bottle and loved it and went back for more. And then I poured it for friends not so into wine, but only after trying to deter them by cautioning them that it was a wine geek's wine. That just fanned their flames of desire. Fortunately, they really liked it too. In the glass, the wine throws a head fake: light in color and transparent, it also has a pretty, tannic structure. Throw in some notes of dried red fruits, autumnal earthiness and excellent balance with acidity, and this certified Biodynamic, no sulfur beauty may even impress your non-wine geek friends. Importer: Wildman & Sons.