SIPPED: user feedback
[Yellow Tail], the ubiquitous Australian wine, wants your help! The producer has decided to open the naming of their new, unoaked Chardonnay up to readers. The contest may have risks as this article points out, the crowd sourcing initiative for naming the new blend of Vegemite and cream cheese (really, why ruin good cream cheese?) drew 48,000 entries, but the winner drew "near universal" condemnation. The [Yellow Tail] contest comes with a prize–[Yellow Tail]! Make your name suggestions in the comments here (sorry no, prize).
SIPPED: place names
Chateau Montelena and other wineries in Calistoga will soon be able to put Calistoga on the label. After a protracted struggle over whether wineries with Calistoga in the name would have to use exclusively Calistoga fruit, federal authorities granted AVA status to the area in the north of Napa. Wineries with Calistoga in the name have three years to begin using grapes from Calistoga. [SF Chronicle]
SIPPED: lightening up
When you have a collection of 450,000 bottles, is it time to lighten up? If you're the owners of the Tour d'Argent restaurant in Paris, the answer is yes to the tune of 18,000 bottles, including some 18th century cognac and Corton from 1895. The auction today and tomorrow is estimated fetch about $2 million, which will aid the restaurant's bottom line as it feels the tourist slowdown. Apparently, during the occupation, the owners built a fake wall in the cellar to prevent the Nazis from finding some 20,000 bottles. NYT, Telegraph]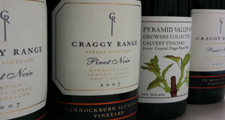 SIPPED: Craggy Range
I participated in a kiwi Pinot showdown over at Forbes.com Tower. Eric Arnold has the story.
SIPPED: Green certification
A national certification program on various environmental factors have been launched for Australian wine. Quotage from Stephen Strachan from the Winemakers Federation: "The retailers more and more are requiring the companies that are selling to them to be able to come to them with certain proof in terms of their environmental credentials." [ABC, WFA]