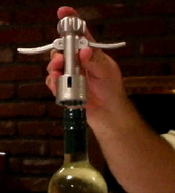 From site reader Jim:
It's opportunities like this that make me wish I did indeed have a blog, but I don't, so I'm passing it to you. Go to butterflywineopener.com for the most asinine, pointless product ever: an opener for screwcap wines. If you look at the video, all you do is seal it over the screwcap…and then turn the top of the opener, just as you would the screwcap itself.

I discovered it in a full-page ad in Tasting Panel [home of the "exposure package"–ed.]…strangely, as you'll see on the website, the only press they've received is in the Tasting Panel, who've mentioned it at least twice in different issues.