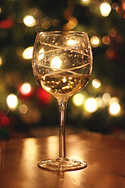 The holiday wine class is now only a week away! Grab one of the remaining seats and join us on 12/10 in NYC to taste through seven great wines for gifting and drinking! Here are ten reasons to entice you to sign up:
* The just-fired coach of the New Jersey Nets will make a guest appearance to give a brief talk on winning.
* Being able to know which end of the bottle to open the only prior wine knowledge needed!
* Tareq and Michaele Salahi will crash the event.
* Find some excellent wines to give as gifts to your friends and co-workers.
* Get a gilt-edged, collectors' edition of Dr. Vino's holiday wine survival guide!
* Discover undervalued gems to pour at your holiday party!
* Meet fellow wine enthusiasts!
* Vigneron Brad Pitt will stop by and discuss what he has learned about wine grape growing in Provence. And goatee growing.
* Find out which wine is the perfect match for roaring fires and chestnuts!
* Learn essential wine miscellany that you can use to impress people over eggnog at holiday parties!
All right, some of these may be true and some may be totally made up. Stop by and find out the truth for yourself!
Buy tickets in advance here
Thursday, Dec 10, 6:30 – 8:00 PM, on E. 29th Street