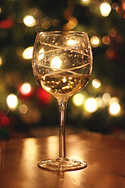 The holiday wine tasting is back! Join me on 12/10 to taste through seven great wines for gifting and drinking!
I'll be pouring seven great wines-–red, white and bubbly (including one tasty kosher wine!). We'll talk party strategies, how to impress the boss with a gift wine, and good food pairings. NO prior wine education is necessary, just a willingness to try something new!
The session will be held at the White Wood House, a historic property on E. 29th St in New York City where the first floor is a space dedicated to wine education. Copies of my books will be available for purchase and I'd be happy to sign them–also good gifts!
So I hope to see you there on Thursday 12/10!
6:30 – 8:00 PM. Registration and details
(image)