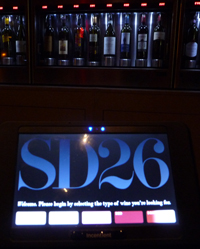 The digital wave sweeping over the print world has found an unlikely target: the restaurant wine list.
I stopped by SD26 on a recent weeknight and things were hopping. The restaurant, opened on Madison Square in September to the tune of $7 million, boasts a wine bar in the front. Tony May, who previously owned the traditional San Domenico, told the New York Times that with SD26 "We aim for the cutting edge."
Thus behold the 24 bottles in Enomatic, self-service dispensers. And no matter where you are in the large space, the wine list only comes in one form and–paper-be-damned–it's digital.
It awaits on the bar, propped up by a little kick stand in the back, beckoning you with "SD26" on the screen. The hostess said that if there were a paper edition it would be "too big" given the amount of wines available. I couldn't resist and picked up the 9×5 tablet and started tapping the touch screen. First fields: red, white or bubbly? Then drill down: glass, half bottle or bottle? Then drill down again: a list of producers, regions and vintages.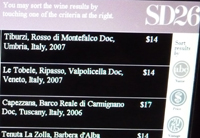 Drill, baby, drill! But this tablet system is a dry hole. When you eventually arrive on a page you want, there is the option to sort by price or alphabetically. Despite having interactive capability, the digitized wine list remains merely a list. There are no descriptions of the wines. No ability to sort by style. Few images. No suggestions for pairings with items on the menu. No interactions such as the ability to rate the wine that you had after you tried it and then coming up with a short list of popular picks or sorting by user-generated rankings. No internet access. So you're pretty much left where you were with a paper list: talking with the sommelier for a suggestion.
Although the inventory could be instantly updated, the wines probably don't change too often: the server I spoke with in the front said that the 24 wines in the Enomatic machines have been there since the opening and will likely be there through the new year.
So, really, the substance of the wine list doesn't appear to benefit form the style of the tablet. It seems to have been done just for the tech of it.